We'll take care of the admin so you can get on with what you do best – producing engaging film and TV.
Collection, allocation, disbursement, and reporting back to your screen project's investors can be complicated and fraught. Appointing a trusted third party to look after Australia & NZ and/or Rest of World collections and disbursements can save you a lot of work, as well as put your investors' minds at ease.
Screenrights Disbursements allows producers to outsource the responsibility of collecting and disbursing financial returns for film and TV projects, ensuring all invested parties and other beneficiaries with a recoupment position will receive their share of predetermined revenue.
How it Works
Screenrights Disbursements acts in the capacity of the producer to collect net receipts after sales agents and distributors have recovered their expenses, deducted their commissions and recouped any advances. Distributors and sales agents report to Screenrights Disbursements and pay net receipts into the collection account. We reconcile incoming receipts, allocate returns in accordance with the recoupment waterfall and disburse amounts to investors and other beneficiaries.
First, our legal team will take you through setting up a service agreement. Once the agreement is signed, Screenrights touches base with all distributors and sales agents and ensures there is a clear instruction to direct revenue for your project into an agreed bank account organised by Screenrights. All returns collected by Screenrights are securely held in trust. Once that income is over the payment threshold, income is then disbursed and invested beneficiaries are then notified of income received, expenses claimed and disbursements made.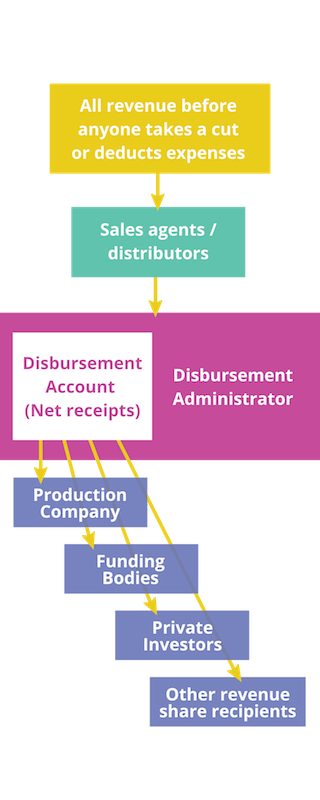 What's Included
A variety of DASA packages to suit all budgets

Quick turnaround times on the set-up of Disbursement Administration Service Agreements (DASAs) by our in-house legal team

Streamlined reporting of all disbursements to investors by our experienced recoupment team

Online client access to the full recoupment history of projects including sales reports, disbursement statements, tax reconciliation reports and sales analytics functionality via MyScreenrights

The option to integrate Screenrights' Residuals Management Service for payment to cast and crew with any DASA product (speak with us to find out more)
Testimonials
Disbursement of gross receipts has become such a specialised activity that it often gets put in the too hard basket when time is short. I think it's great that Screenrights has now moved into this space, especially given their experience in royalties distribution over many years.  It seems like a natural evolution of their services.
Matchbox welcomes Screenrights into the Disbursement arena, and we have been very pleased with the way that the service is developing. All of our investors expect accurate disbursements and transparent reporting –  and, much like the service we have received from Screenrights across the educational space, we know that we can rely on Screenrights to deliver this.
We are pleased Screenrights is taking on this important function. It is reassuring that the industry will continue to have access to an Australian disbursement service. Screenrights is ideally placed to fill that role given its relationships in the industry over many years and the similarities between its current function and this new business.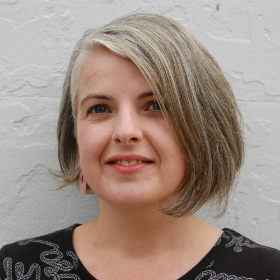 Madeleine Donovan
Manager, Disbursements by Screenrights
Madeleine joins the team at Screenrights with many years experience in recoupment and disbursement from her former role at Screen Australia.
You can talk to Madeleine or Jasmina about any of your disbursement needs, and together we can come up with a service that best suits your screen business.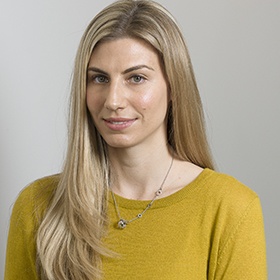 Jasmina Matic
Manager, Disbursements by Screenrights
Jasmina has over 10 years' experience in rights management and royalty distribution.
You can talk to Jasmina or Madeleine about any of your disbursement needs, and together we can come up with a service that best suits your screen business.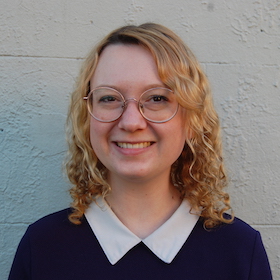 Kaitie Andrews
Associate Counsel
Before joining Screenrights as Associate Counsel, Kaitie's previous work included a boutique media and defamation law firm and the Arts Law Centre of Australia.
You'll work with Kaitie throughout the contracting process. She'll endeavour to make it as smooth and easy as possible.