Screenrights has announced the recipients of our inaugural Cultural Fund, three projects that present innovative solutions to overcoming barriers to access and use of meaningful screen content.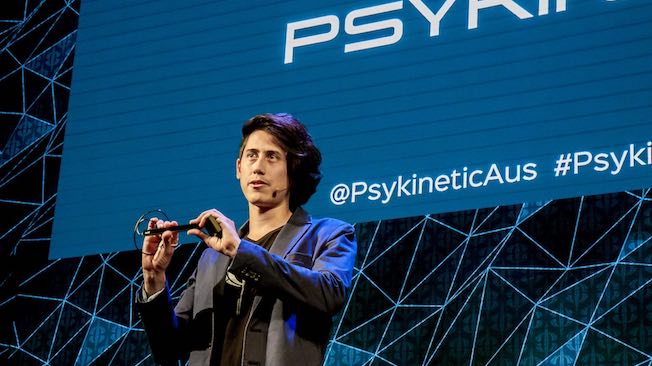 The Screenrights Cultural Fund was established earlier this year to support innovative projects that foster the creation and appreciation of screen content in Australia and New Zealand. We are very pleased to announce the first three projects to be funded.
The three recipients, each receiving $50,000 in funding, are:
Psykinetic, to support a new screen content delivery platform controlled by eyes, muscle and the mind created by Dr Jordan Nguyen (pictured above)
The Sharing Stories Foundation, which will increase access for culturally significant Indigenous material in schools through an innovative app
Brad Knewstubb for TOGETHER, a collaborative live experience platform set inside a geodesic dome to tour schools across New Zealand with interactive film-based educational content
Screenrights' Acting CEO James Dickinson said: "This has been an incredibly exciting initiative as it has brought forward some extraordinary projects and people who think creatively and laterally about education and access. The three inaugural recipients of the Cultural Fund are doing incredible work to overcome the barriers that restrict access for students and educators to meaningful screen content. These projects also offer benefits to the broader screen industry, with their innovative approaches offering opportunities for greater reach to a diversity of audiences."
Founded by Dr Jordan Nguyen, Psykinetic creates cutting-edge assistive technology to improve independence and quality of life for people with disability. This grant will fund the development, code, guidelines, example apps and packages to allow new inputs like eye-control over screen content access.
The Sharing Stories Foundation has developed culturally significant media with the Three Traditional Tribal Groups Advisory Council in Lake Mungo. With this grant, they will develop an interactive app and education package that guides users across landscapes and knowledge.
Employing 360 degree projection, interactive video, augmented reality headsets and a fully immersive environment, Brad Knewstubb's pop-up touring model for TOGETHER aims to overcome barriers that remote communities face in accessing contemporary technologies and education content.
Applications were assessed by a panel of professionals with both local and international expertise in the screen industry and in education.
The focus of the Cultural Fund will change each year in response to trends and issues in screen content creation. In 2018, the Cultural Fund focus was education and, more specifically, solutions to overcoming barriers to access and use of meaningful screen content for teachers and students in education and training. The $50,000 balance of this year's $200,000 allocation will roll over into next year's pool of funding.